Excellent Excel from Microsoft Office – Business and Personal Software
Excellent is the word that best describes the Excel spreadsheet program. As it is part of Microsoft Office,  many of my customers both business and non business have this program. Notably, a lot of them are using Excel – the spreadsheet leader. Although some use it for keeping lists and records, more and more are using it as it was intended to be used. Its strength is in its financial and analytical use. Use it for your accounts – it is much cheaper than MYOB.
Learning more of Excellent Excel
In fact, I have used Excel for many years. My mum has used it for even longer. Previously, she has designed complex spreadsheets for some large businesses and corporations. As well she taught spreadsheets at TAFE and for Registered Training Organisations. I intended to write about some of the tricks and tips of Excel for those who are already using it. However, Mum thought an introduction to Excel might get more people interested when they saw what spreadsheets can do. So this is a basic introduction before we go on to more tricks and tips.
Creating  spreadsheet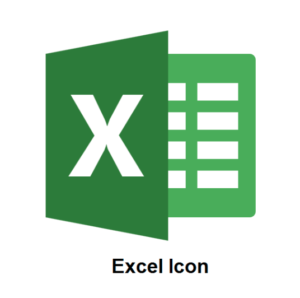 Open Excel by clicking on the icon. Click on the start button and scroll until you find the icon.You should see a screen similar to the one below: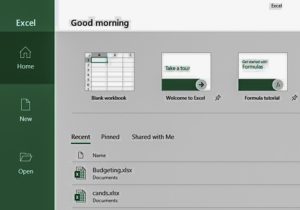 Click on Blank workbook to create a worksheet for you to work on.
The Blank worksheet will look like the one shown below: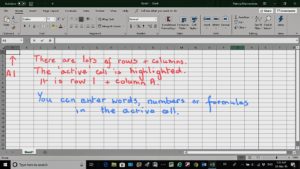 Excellent Excel – Text entry
You need to be able to enter text for a main heading, column headings and row headings. We are going to create a simple budget spreadsheet. The title will be Budget – January to June 2019. While the active cell is A1, type in Budget January to June 2019.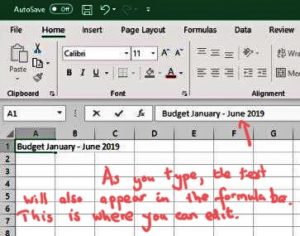 Formatting text
Although it is not essential to format your text, the overall appearance of your work will look much better if you do. Below is a screen shot showing some of the things you can do.

As with Word, you select your text and can change font and colour. The Merge and Centre Button is very good for headings.
Entering row and column headings
Enter the following row and column headings.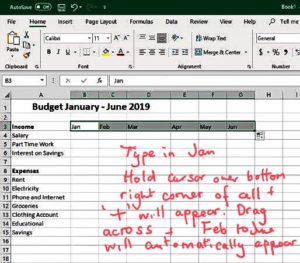 You can use AutoFill to put the month's in.
Save your workbook naming it Budget 2019.
Excellent Excel – Entering Numbers
The second type of cell entry is numbers – the raw data you may wish Excel to calculate for you. You can use the number keys along the top of your keyboard but it is a good idea to get used to using the numeric keypad. Enter your data so it looks like the screen below.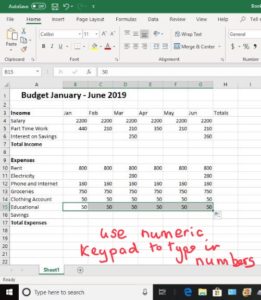 Excellent Excel – Entering Formula
The third type of entry is the formula that calculates for you. The easiest way to add a row or column of numbers is to use Autosum.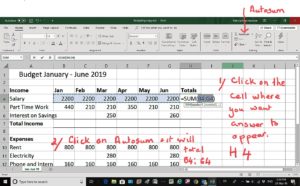 Once you have the correct answer you can copy the formula down so all the totals are calculated.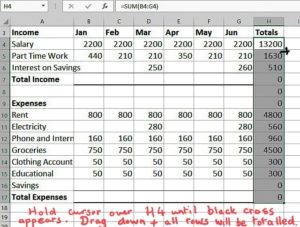 You can add the monthly totals in the same way and copy across. Your workbook should look like the one below.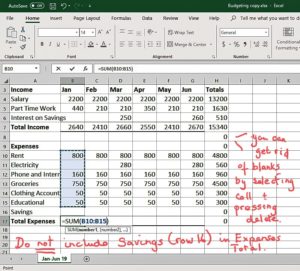 Using Mathematical Operators
Obviously AutoSum is for adding lists of numbers. Sometimes you will want to subtract, divide and multiply.
+ is add
= is subtract
* is multiply
/ is divide
Below you can see how you use these symbols: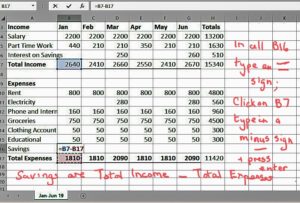 Copy your January savings total across and you will see your projected Savings total for the first six months of 2019.
Why Excel is Excellent
Once you have the formulas in you can save your spreadsheet. You can lock the cells with the formulas in so you do not overwrite them. The great thing about spreadsheets is that if you data changes ie you lose the part time job. You can enter 0 for those months and the whole things will recalculate.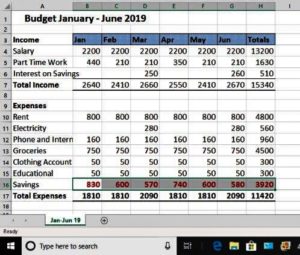 There are so many uses for spreadsheets:= contact lists, inventories, stock take figures, budgets, projections, accounts, mortgage calculations and many more. Think how Excel could be useful for you!
If you need a little help to get started we offer Software Support. Click on link for more information.
If you do not have Excel but would like to try it, you can download a free trial.