Computer Repairs Atherton  – On-Site Services
Fast computer and IT services – phone
0437 539 507
Top IT on site Technician on the Tablelands
Cath has expanded from Computer Repairs and Sales to offer a wide range of IT services for the Atherton Tablelands. Why choose Cath?
reliable experienced and qualified
a local trusted by local businesses
travels to you and works on site
attentive to your needs and is open to innovation
Apple Mac and Windows service
IT help with smart technology – phones, tv's, security cameras, solar panels, Google Assistants
Cath's Computer Solutions provide fast and efficient IT services on the Atherton Tablelands. Catherine runs a mobile computer service so she comes to you. There is no need to pack up and transport your computer.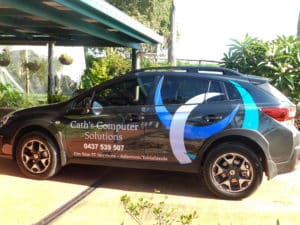 IT services
As well as computers she can assist with any IT device problems you may have. The Internet of Things means more and more devices are connected to the Internet and Cath can help set up Google Assistant in the home, program your Fitbit device and has even helped with drones.
Cath's Computer Solutions can offer support on your Ipads, iPhones, Androids, Macs and Microsoft. Together with this Cath can help with email organisation and even facebook. She can advise of business solutions and with the Cloud can suggest alternatives to the traditional business server. Also she has a lot of experience with Internet connections of all types and has spent a lot of time on hold with Telstra sorting out customers' problems.
"There are no problems, only solutions."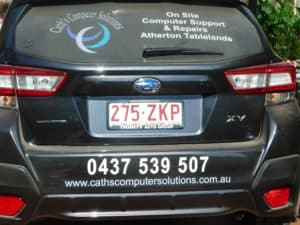 Charges.
$88 per hour including GST
$40 travel including GST
$50 minimum including GST.
Travel charges may apply.
No Travel charged for Atherton and Herberton.
Software Support – We are able to help with most software packages including Word, Excel, Access, MYOB, Quickbooks and the Adobe suite of programs. click on software support for more details..