Toilet Paper panic buying
My grandmother Mary-Ellen did not buy toilet rolls. She certainly would not be stockpiling anything in the wake of the Corona Virus panic buying spree. She never had the money to stockpile anything. There was no need to buy special toilet paper when there were much cheaper alternatives.
As a child I lived first in a terraced house with a back yard and an outside toilet. We did have toilet paper. However when I went to visit Grandma and Granddad Wignall which I did frequently there was no standard toilet paper in their outside toilet.
Byron Street
They lived for fifty years in a rented terraced house which was a two up and two down. Their address was 77 Byron St, reflecting the houses were constructed in the 1840's although there was nothing obvious which connected them to Lord Byron.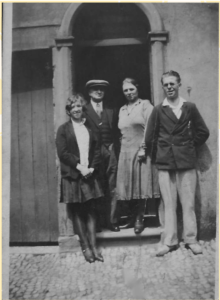 The outside toilet in the yard at the back of the house had no door. Granddad had chopped it up for firewood during the second world war when they were cold and had no coal. The toilet was in the centre of a wooden board which ran across the back of the brick wall. On the wall to the left when you were on the toilet was a nail and from the nail hung a sheaf of newspaper cuttings on a string. They were neatly cut to the same size and replenished when needed.
Toilet Paper with a difference
It was interesting to read some of the papers: birth, marriage and death columns; stories of criminal activities which ended before you knew what was the outcome ; classified ads and a few half headlines, football results and North End losing again. According to Grandma the best paper to wipe your bum on was the Lancashire Evening Post. It was much softer than the other two papers they read – the Daily Mirror and the News of the World. She must have tried them all. The News of the World could have had more tantalising and titillating stories but then you would not know the end of the story unless you were very lucky on your next visit.
I only started thinking about this when I read of the great toilet roll saga. Why was the nail on the left? Is that better for right handed people? Did Grandma have a standard size for cutting the sheets? I never remember seeing her doing her cutting and threading onto a string but I could not see Granddad doing that.
Toilet Tissue really not an Issue
It was not an issue for us. That was what was provided and that was what we used and it was cheap and entertaining. After all a lot of newspapers deserve to be used as toilet paper. Not so easy though in the digital age.