Keyboard Fixes
Keyboard fixes were a topic last month. To recall I wrote about faulty laptop keyboards and how they could be fixed. In fact were they worth fixing? Since then I have had a call out to a problem computer at Millaa Millaa.
This was  not a laptop but a Windows PC. The customer told me the machine was doing strange things.
sometimes when first turned on a pop-up screen appeared and it was impossible to close it by clicking on the the close button
occasionally there would be a beeping noise
random pop-up screens would open and could not be closed
Solution
The main clue is in the "beeping". All the above strange things can be caused by a faulty keyboard. It is not always that a key will not work. Sometimes the keys appear fine but something is wrong. With a PC the solution is simple. Buy another keyboard for $20 and plug it in. If this solves the problems, great!
With a lap top you would need to get a technician in to change the keyboard.
Temporary Solutions to Keyboard Problems
Some customers find their own solutions to keyboard problems. On one laptop the "i" key was not working so the user typed a "1" instead of an "i". This sort of worked until the user needed to type in an email address with an "i" in it. For instance @gma1l.com will not be recognised as @gmail.com. A new keyboard will be needed. However there is another keyboard fix:=
There are several different kinds of keyboards for PCS. The most common type is a physical, external keyboard that plugs into your PC. But Windows has a built in Ease of Access tool called the On Screen Keyboard (OSK) that can be used instead of a physical keyboard. You do not need a touchscreen to use the OSK. It displays a standard keyboard so you can use your mouse to select keys.

How to display the OSK
In Windows 10 click on the start button and then settings.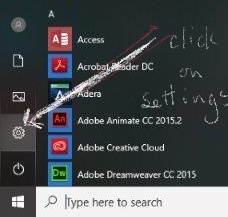 2.  When the settings menu appears scroll down to Ease of Access and click.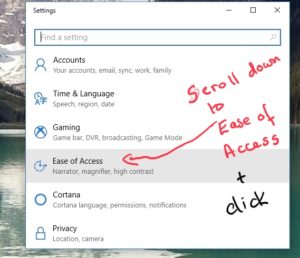 3.  When the menu appears scroll down to keyboard and click
4.  When the keyboard choices appear turn on the on screen keyboard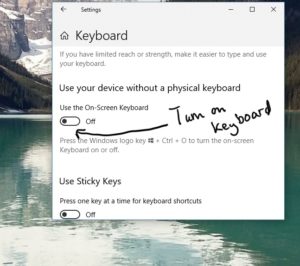 Another way to turn the on-screen keyboard on and off is to use the physical keyboard if the relevant keys are working!
Press the Control key and the windows key and O at the same time and this will turn the keyboard on and off.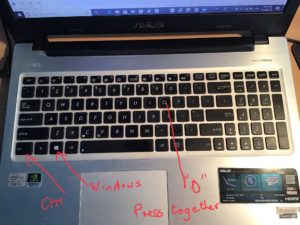 Keyboard Viewer on Mac
Virtual keyboards are also available on the the MAC.
To turn the keyboard on, click on the Keyboard Language icon. A drop down menu appears showing what language keyboards are installed. Here the Australian keyboard is selected and by clicking on Show Keyboard Viewer the virtual Australian keyboard will appear on screen.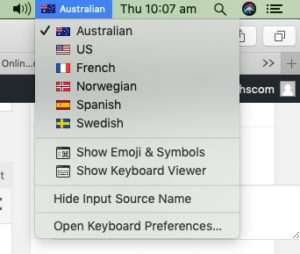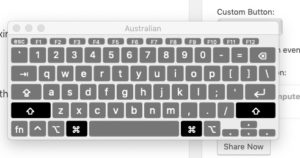 The use of different keyboards allowing the user to type in accents and foreign language symbols is another interesting topic which we cover in a later blog.
See if you can bring up the virtual keyboard on your machine, you never know when you might need it for keyboard fixes!