Keep-fit with fitbit
In order to keep=fit with fitbit Cath bought herself a fitbit for Christmas, one for me, her mum and one for Tamara her eldest daughter. The reason being she thought we all needed some incentive to become fitter, Starting with 10 000 steps a day seemed a good idea. So we will keep fit with fitbit.
Wet or dry fitbit
Because Cath is a swimmer, she bought a waterproof one as she likes to do laps at Atherton Pool. The fitbit could record the exercise once she found out how to turn it on. However Tamara and I concentrate on walking. Fortunately, Tamara can easily meet her target as her job in disability support means a lot of walking. I have to make more effort but have found that the fitbit helps especially when it keeps reminding me to move.
Just in case you do not know about fitbit, it is worn like a watch and keeps track of your steps. Some can track your sleep patterns, heart rate and exercise patterns.
It can help with diet by tracking what you eat
You link it to your phone or computer or IPAD and it keeps records and reports on trends and progress
Walking to fitness
I started my exercise routine two days after Christmas and set myself the target of 10 000 steps five days a week. I found this a reasonable aim. Leif my husband needs to take regular exercise following heart surgery three years ago and for some time we have gone for 45 minute walks usually in the rainforest where it is cool enough for us even in the summer because of the canopy. We walk in the Wongabel forest which is a pleasant and has a flat terrain.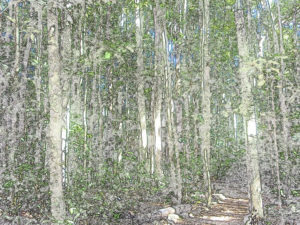 Other walks we regularly do are around Lake Barrine and Lake Eacham and along the foreshore at Tinaroo. Peterson Creek at Yungaburra is another favourite and there we have seen platypi, All these walks contribute to my step allocation. Along with shopping and walking to the Post Office and around the house, 10 000 steps is reasonable if the weather is fine. Upto the Australia Day weekend all was good and I had lost two kilos following this new regimen.
The impact of The Wet
Then the monsoonal rains arrived! It rained torrentially on January 25th. There was thunderous noise on the tin roof and the gutters overflowed. I was determined to do my 10 000 steps and somehow managed it walking round and round the carport and round the house under the eaves but it was exceedingly tedious. It rained all day Saturday but this was one of my days off so I was not worried.
I was not looking forward to walking around the eaves again on Sunday. When I got up it was not actually raining and Leif told me the radar promised a few dry hours. It did not look promising but I thought I would give it a go. It is 2.2 kms to the end of my road and there and back is 8 000 steps.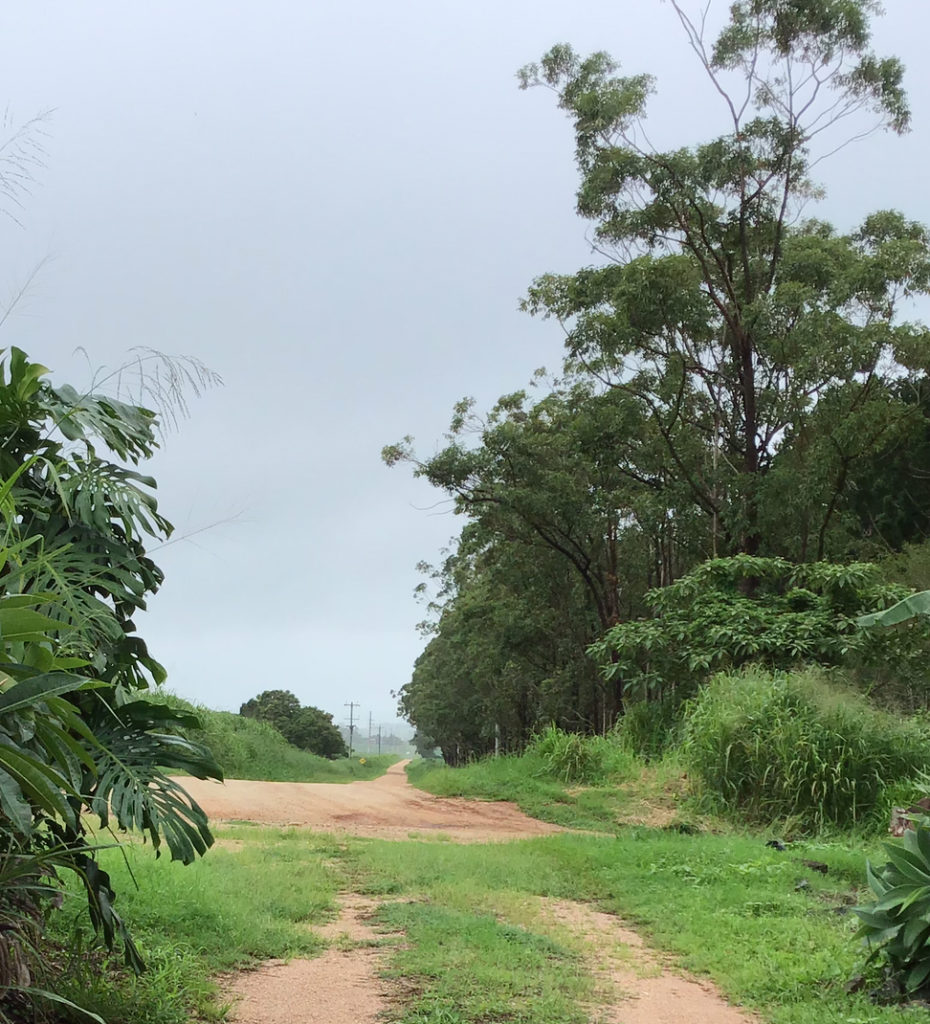 I set off listening to an audio book I had downloaded from Atherton library to my phone.
It is an annoying American mystery told in reverse order for some reason. It is called "All the missing girls".
After a kilometre of dirt road I reached the bitumen. I decided to keep going and thought I would go as far as the dip in the road. Water from the previous day's rainfall filled the dip and I did not want to wade through. I reached the dip sign and turned. Nicolette the heroine of the audio book was describing the melt down of her father who was in a care home suffering from dementia. It is not really the best book for a pensioner like me.
Rain drops are falling on my head
I felt the first heavy drops of rain as I headed home. I could just see the house. It was a long way to walk in the rain. Should I turn off Nicolette and phone home? I was pondering this when I saw a white vehicle coming out of my driveway. Leif to the rescue. He would have heard the rain. It seemed to take a long time but he pulled up beside me and I got in. He was still wearing his dressing gown.
Rescue
He turned the car round and we headed home for coffee and me for a change of clothes. It had not been long but I was soaked. Maybe I should have got a water proof fitbit. I looked at the face of the tracker and tapped it. The time appeared. I tapped it again and saw I had done 2 500 steps = only 7 500 to go.
Clocking up the steps
How was I to get close to target without walking round and round the carport. I remember an episode of Charlie and Lola where Lola plays a game of round and round with her friend Morton who is "not a big talker". Lola thought the game boring but Morton liked it. Abby, Cath's younger daughter and I used to watch Charlie and Lola.
I had to go shopping so I would clock some steps up there. This was not the first time I had tried the supermarket option. The first time was at the Smithfield shopping centre where there is a very long mall which is obviously dry.
Woolworths in Atherton is not so big but I tried valiantly going up and down every aisle, some I had never been down before. I ended up buying things I did not need and only clocked up 800 steps.
Round and Round
After lunch my fitbit vibrated and a message asked me to feed it 250 steps. There was nothing else for it but to go round and round. I walked down the front of the house and on to the deck and headed towards the water tank. There was something in the shrub next to the tank. I looked more closely and saw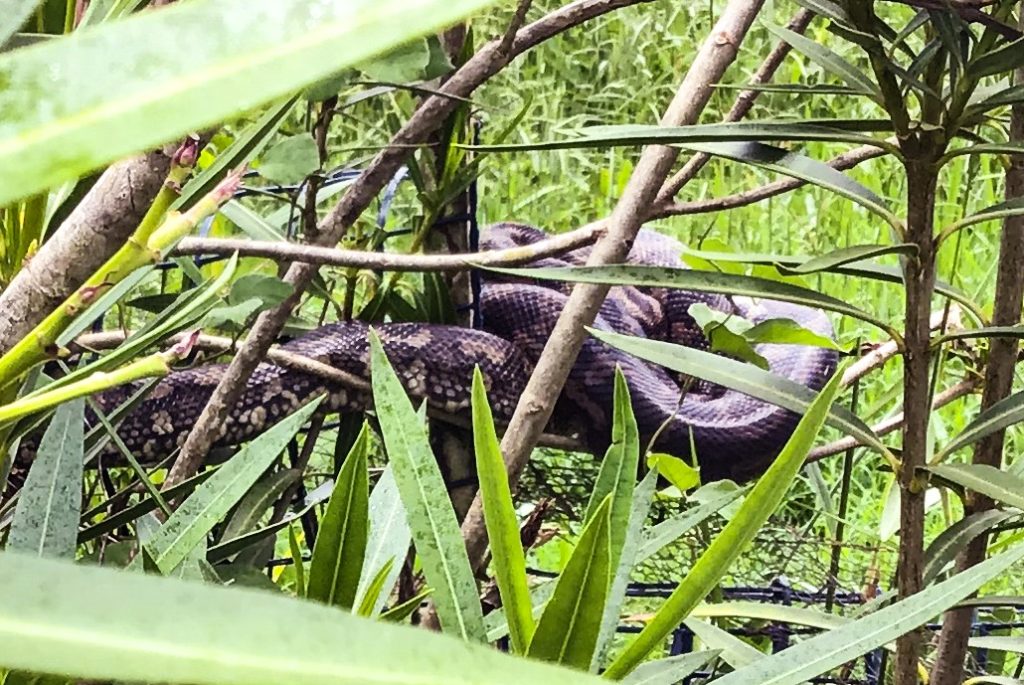 This was not by a long chalk the first python I have seen around and in the house. Once one fell down the chimney and into the hearth. I wrote a book for Cath's younger daughter Abby about this and called it "Abby and the carpet snake".
Just over a year ago Leif and I witnessed this outside the bedroom window.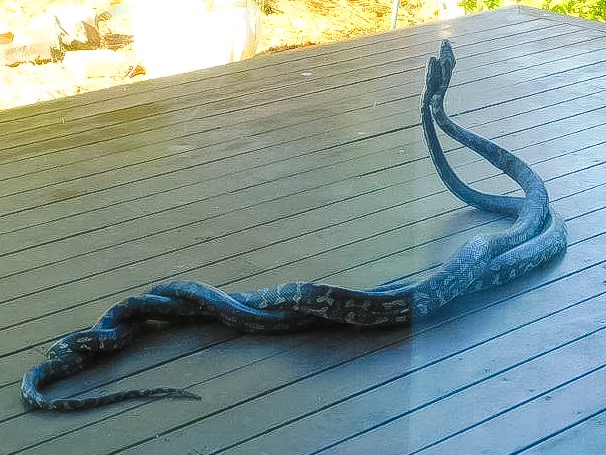 Apparently this is two male pythons fighting for a female. This I knew from the local snake catcher. On request he came one day to take away a python which he does for $50. I am not afraid of the pythons but cannot say I like them. I went to look closer at the one on the barbed wire fence.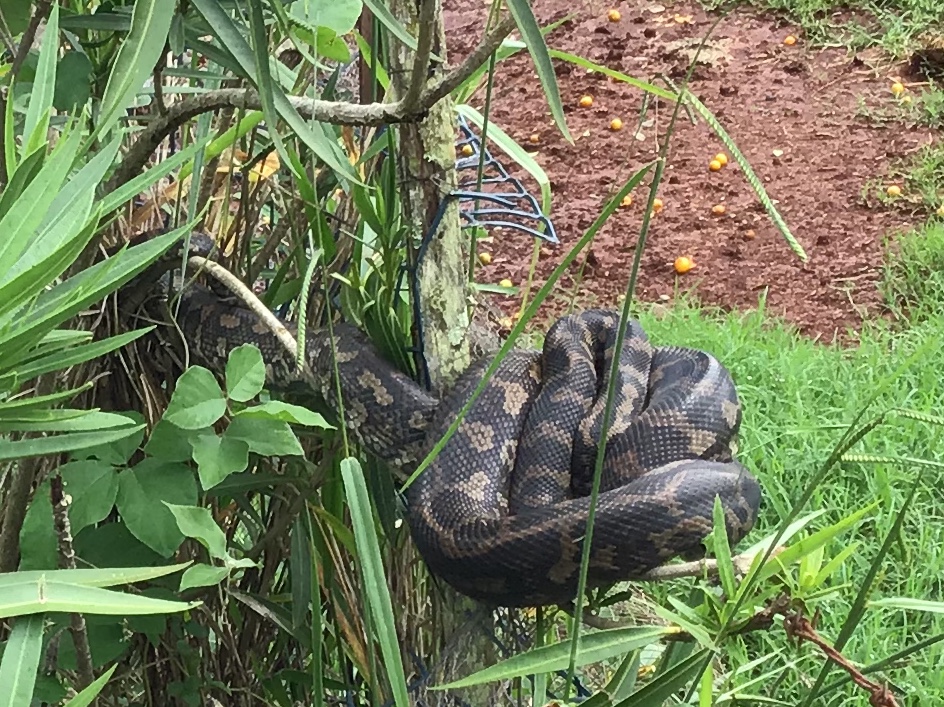 Undeniably it was a bit disconcerting to walk round and round and see this or look for this every circuit. What if it had moved or was in the act of moving?
Undoubtedly not many fitbit fans have to put up with this. I did keep on walking like Felix and the snake had gone after an hour.
Day with a difference
Obviously it was a day with a difference. However I am very pleased with my fitbit. It does give incentive to keep exercising and consolidating on progress made but I would have to say the better the weather the better I like it.